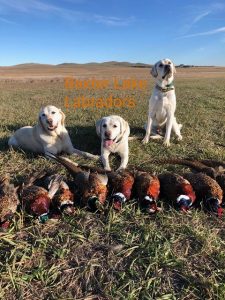 White Labradors are known to be excellent hunting dogs. They are eager to please their owner, easy to train, loyal and intelligent, and have that natural desire to retrieve things. White labs can be taught to hunt birds, ducks, geese, fish and other prey. What sets a good hunting puppy apart from a household pet is simple — training.
How to Begin Training a White Lab Hunting Puppy?
If you are planning to adopt a puppy as a hunting companion, you want to begin training early. In addition to house training, it is important to train hunting puppies to learn basic commands like "sit", "stay", and "come" early so that they have a strong basic foundation once they get old enough to learn more complicated commands. Short, daily training sessions are generally most effective for young dogs, beginning at about eight weeks old.
All white Labrador retriever puppies have hunting instincts. They have become the most popular breed in the United States as pets, but their original purpose of the breed was to work and hunt. However, if they are not trained properly, they will not realize their hunting potential and remain a wonderful pet, but not a hunter. We recommend introducing puppies to water, hunting decoys in addition to basic commands so that the puppies begin to learn about hunting very early.
Minnesota White Lab Puppy Breeder
Baxter Lake Labradors breeds white Labrador hunting puppies each year. Our puppies come from strong hunting lines, as well as Champion conformation (show dog) lines. They are raised with love and attention from the moment that they are born. Our family can help you choose the perfect puppy for your needs. If you are looking for a white lab hunting puppy, contact us now and we can talk to you about the puppies we have and the litters that we are expecting in the coming months. We can talk to you about the specific characteristics you are looking for and make a good match for your needs. Our dogs only have 1-2 litters per year so that the females can have a break. This also helps to maintain their health and the health of the puppies.
If you are interested in purchasing a white lab hunting puppy, contact us at Baxter Lake Labradors at (612) 309-1438. Each of our dogs is a part of our family and we would love to help you find the perfect puppy for you.