Why You Should Get Your Next Labrador From Baxter Lake Labs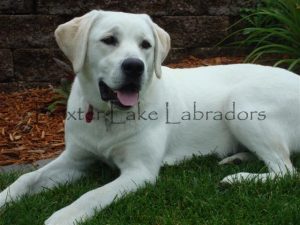 If you are looking for a white, AKC English Yellow Labrador, you have no doubt visited MANY websites.  At least I hope you are doing a lot of research, since this decision is an important 12-15 year commitment.  You have seen and read a lot of similar verbiage as well.  But what do you think when you see 6, to 12, to 18 or more dogs in one location?  I, myself wonder how these Labrador breeders can possibly give the time and attention to each puppy from each litter that we give them the first 8 weeks of their lives.  Here, they are weighed every day to be sure they are getting enough to eat and their temperature is taken twice daily to be sure they are warm enough to properly digest moms milk.  Our Yellow Labrador puppies are raised in full sight of the family with lots of love, 24/7.  Loved, socialized, and trained from the start, until they go to their forever homes.  We include sensory touching in the upbringing of our puppies.  Several times per day they are cradled on their back and massaged from their shoulders to their paw pads for stimulation.  Constant attention and interaction gives us the opportunity to see which puppies are most active, cuddly, curious, etc.  It allows them to show us their individual personalities, which become more apparent around 4 to 5 weeks old.  I might add, we do not charge more for first picks.  ALL of our puppies are first picks!
Our clients are always kept up to date with lots of photos and videos.  We explain all of the processes along the way.  And then we do our best to help you choose the personality and characteristics of the Labrador puppy that will fit best with your family.
AKC Yellow Labrador Retriever Information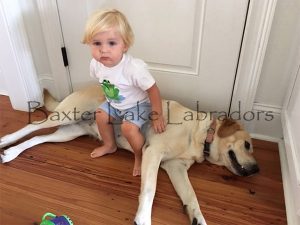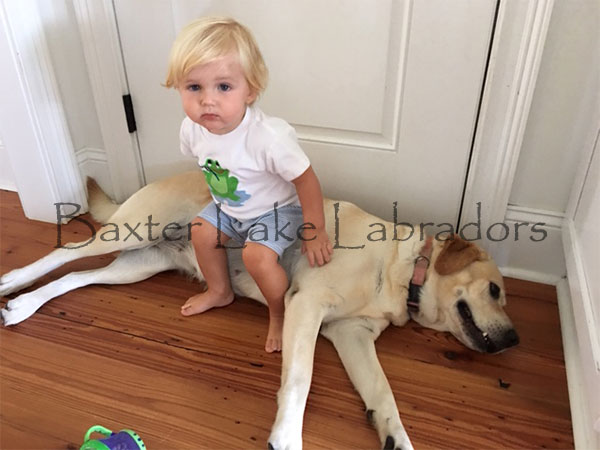 Did you know that the Labrador Retriever has been named the "Most Popular Dog" in America for the 31st consecutive year?  There are many good reasons for this, read on.
The Labrador is also one of the 30 most healthy breeds of dog.  Personally, we are committed to breeding only the best dogs.  Health, temperament, and great looks/conformation are what we strive for in every litter and every puppy.   Our Dams and Sires are tested for the following "sound" qualities.  Hips, elbows, eyes are all health guaranteed and registered by the Orthopedic Foundation for Animals.  Our dogs are also tested for a full panel of tests specific to Labradors and some large breed dogs to include:  CY Cystinuria, DM Degenerative Myelopathy, CNM Centronuclear Myopathy, EIC Exercise Induced Collapse, PRA Progressive Retinal Atrophy.
White Labrador Retriever Specifics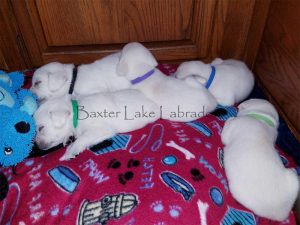 Next, let's talk about the White Labrador Retriever.  Actually, they are Yellow Labradors.  The AKC, American Kennel Club does not recognize White Labradors.  They just have a lighter color of coat than the Yellow Labrador.   At this point, the AKC  has 3 designations of Labradors, the Black, Yellow, and Chocolate.  Our breeding program specifically and exclusively produces white and ivory Yellow Labradors, with dark pigment.  Of course, the color and the pigment can change a bit as the dog ages.
Differences Between 'American' & 'English' Labradors
Many people also inquire about the difference between the American Labrador and the English style of Labrador.  American Labradors are mostly bred for hunting.  They are more high strung and energetic, they are "driven" to hunt, swim, and retrieve.  Some say they are more hyper because of this.  They are taller in stature.  Their faces a little more narrow and noses are longer too.
The English style Labrador is more muscular, with a blocky head, and not typically as tall as the American Labrador.  They are more calm, and thus make an unbelievable family pet.  Also, great for therapy companions.  Their temperament is hard to beat!  They like to be close to their owners, always.
All Labradors are very smart, and they have very keen noses.  This makes them the dog of choice for such important jobs as drug detecting, finding lost persons, and many forms of therapy.  Now, you know you cannot go wrong with this breed of dog.  They are fabulous companions, and get along very well with other animals, babies and kids, and everyone!