Client Testimonials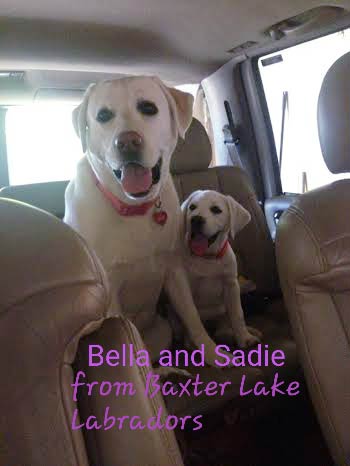 "We have purchased two females, Bella and Sadie, from Melinda in the past. They are around six years apart in age. Both have been wonderful additions to our family with a calm and gentle demeanor unsurpassed by other labs we have seen. They have always been great with our kids and socialize well with other dogs. They love to play, which has made it easy to train for hunting work and they have both been rock stars in the field as our family always pheasant and goose hunts in the fall. One of our friends that hunts with us also bought a puppy from Melinda just based on our dog's hunting performance and demeanor and has been very happy with his dog.
Melinda takes special care with each litter of puppies and you won't find a more attentive breeder. Communication with Melinda has always been excellent and she truly cares about the well being of all the puppies- from their birth, to point of sale and beyond.
If you want a beautiful dog with show dog qualities for a family companion, a hard core hunter, or something in-between like the dogs we have, you're looking in the right place. We are excited to get our next puppy from Melinda soon and add to our family sometime hopefully in 2020!"
Craig and Heather in Minnesota
---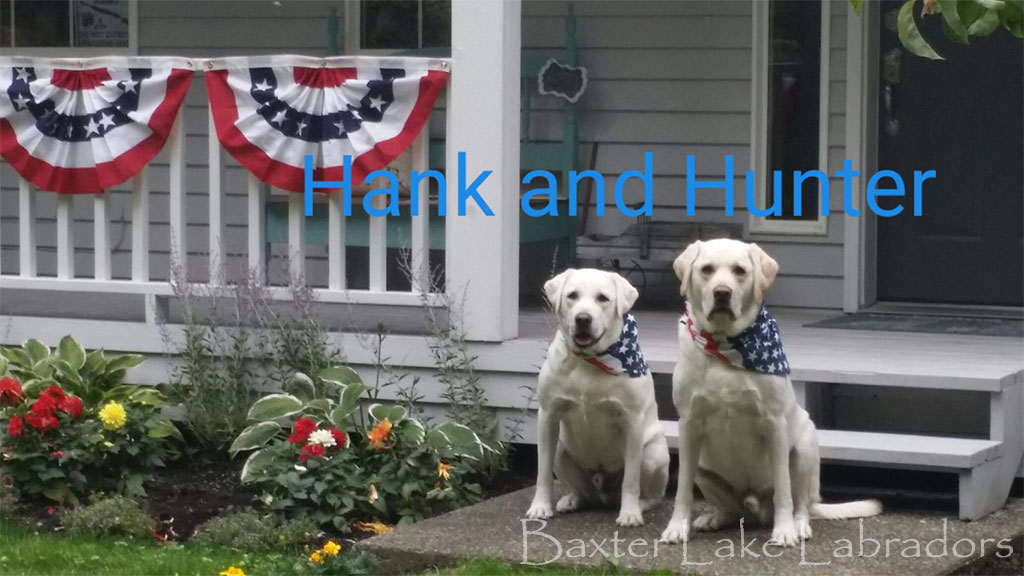 "I first found Melinda and Baxter Lake Labradors in March of 2012. I had searched for months looking for just the right kind of dog for my family and of course the right breeder (we did our homework and it paid off tenfold).
Wow – did I find the best breeder in Melinda and Baxter Lake Labradors! Not only did I find the best dogs (yes, went back and got a second one!) in the world, I found the most amazing person to take care of those puppies the first 8 weeks of life. Melinda stayed in constant contact with me throughout the process before and after they were born, but continues to stay in touch seven years later.
We got pictures continually to see our puppy growing and interacting with the others. We picked up our first boy "Hunter" on August 29, 2012 and fell instantly in love. First of all, who gets a puppy that is completely potty trained at 7 weeks old? We were very lucky with that, but it definitely comes down to an amazing in-home family that is raising these pups to be great dogs for their forever homes.  That was an awesome plus. He was well socialized with other dogs and wonderful with people.
June 2013 we decided that Hunter needed a friend and lifelong pal.  Of course I contacted Melinda and got on the list for his little buddy "Hank".  We flew to Minnesota and picked up our Hankie Boy on May 6, 2014.  Hank fell instantly in love with my husband from the moment we saw him, and has been by his side ever since.  Hank also attached himself to Hunter the day he got here, and you rarely ever see them apart.
The "boys" as they are known, are the best dogs anyone could ever ask to spend their life with. I can't imagine our lives without these two.
Both dogs love to please, love to snuggle, and love to play. I wasn't sure how we would do it with two big dogs, but it was the best decision we have ever made (okay, maybe our four adult kids would argue they were the absolute best LOL). The boys use each other as pillows and do all their exploring together. They may be brothers from different litters (same mom & dad) but they are joined like twins.  I had no idea how many people would stop us and ask where we got our dogs, or exclamations of how beautiful they are. They are show stoppers wherever we take them.
From the beginning until now (7 years later), we had the best experience with Melinda. We stay in constant contact with updated pictures to her and then she sends new litters of pups for me to gush over and get me wanting yet another. You will not be disappointed! Best breeder you will ever find, and best dogs. We now have our best friends for life in these two boys. We could never thank her enough."
Mickie & Tom  WA
Proud owners of The Boys – Hunter and Hank
---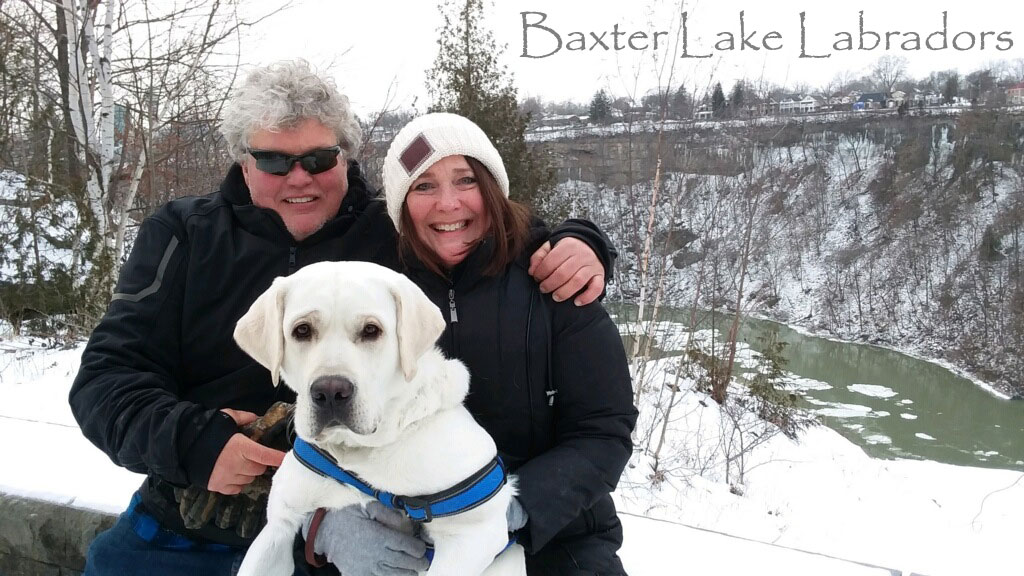 Jan 2018 I had just had to put my 13 year old lab down. This was my first full day home without him. After trying to give him a piece of cheese and jumping up to check on him cause it was so quiet. It sunk in he's gone and I can't be without a dog. I knew I wanted a white lab. But no one bred those in my area. So I did something I'm not comfortable with. I turned to the internet. After six hours God stepped in. I was led to Melinda by another breeder. Talking to her was like talking to a old family member who you haven't seen in years. There was just something about her that made feel like knew her forever. She answered every question I had. And there were many. But what impressed me most was the questions she asked me. I got off the phone knowing I had found my breeder. When she sent the pictures that weekend. I knew I found my dog. A lot of people tried to talk me out of it. They all had internet horror stories about dogs. But there was a gut feeling that Melinda gave me after talking to her I couldn't shake. I was right. The pictures don't lie. This dog is everything she said it would be and a little more. Even down to the little bit of cream on his ears. She knew I wanted a white dog. She noticed this after I made my pick. Being her and wanting me to be completely happy. She brought this to my attention. She recommended another dog that had a similar personality and size. I'm glad I got a little cream.
Kurt  PA
---
Jett is an amazing family dog. He loves playing frisbee with the kids, or snuggling and being a big teddy bear. He's our gentle giant. He knows when it's play time and when it's relaxing time. We just love him so much!
Jaclynn TX
---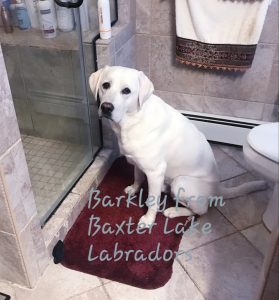 I would just like to say that my experience in dealing with Melinda has been amazing. She and her husband love these animals and treat them like their children. Their home is filled with love. Melinda sends pictures and keeps us up to date on how the puppies are doing. A delight to deal with!  Our Barkley is so smart and fun.  He loves to wait for a shower in the am!
Sharon  NY
---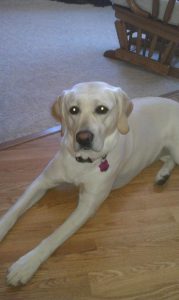 McKenzie is one of the best things ever to happen to us.  "Dog" doesn't do her justice.  She is not only beautiful, she is clothed in virtues we two humans often fall short on.  She is loving, loyal, protective, gentle, obedient, and a great playmate when it comes to ball.  As long as we have dogs, one of them will be from you.  Thanks for a wonderful companion.
Glenna  OR
---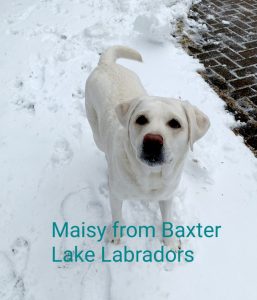 Seven years ago our precious Maisy was born in Minnesota. We never could have imagined how much joy this beautiful English labrador retriever would bring into our lives. We named her Maisy because we became her "forever family" in the month of May when we drove "up north" to bring her home. When we took her for walks as a puppy, everyone in the neighborhood gave us those smiles and looks that seemed to say, "How adorable!!" And now, seven years after we chose her from the litter, she is just as precious and dear to us and we still feel proud to take her on walks. How lucky were we to find Baxter Lake Labradors and have this beautiful lab fill our hearts with joy?! Maisy is gentle, yet playful. She always greets us with her wagging tail when we come home from an errand or when she is waiting for a treat. She loves to be near us and is so loving and good-natured. She is smart, loyal, and patient. We enjoy seeing photos of her siblings on the Baxter Lake Labradors website. We could not have chosen a better breeder to have given us our precious companion. She has left paw prints all over our hearts.
Jim, Suzy, and Sophia from Illinois