Labrador Retriever Puppies For Sale [NEXT LITTER DUE 9/23]
About Baxter Lake Labradors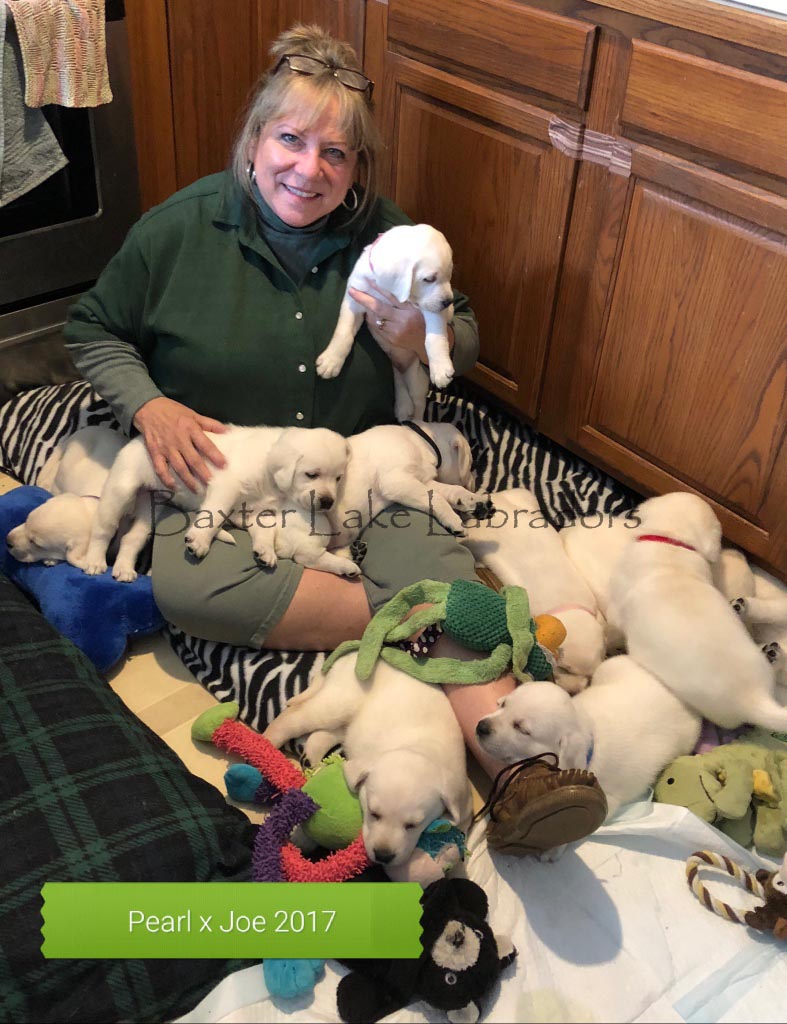 Our love affair with dogs began for us as kids. Both my husband and I grew up with dogs and our families are all dog lovers. We've adopted many dogs over the years and taken in a few strays along the way too. As a result, we've owned many different types of breeds. Our favorite has always been the Labrador Retriever.
When we moved to the country in 1994, we had 2 black Labradors. One was a stray and the other my husband found while hunting in the woods, cold and alone. They lived to be 13 and 15 years old but sadly died only 6 months apart. We were heartbroken but knew we had to fill our lives again with another Labrador. This time we decided, since we had a choice, to bring home a Yellow Labrador. We wanted to keep the memories of our black Labs, and start with a new, different color.  After doing much research, we found the perfect dog.  We were fortunate to meet Charlie Tolkien from Goldberry Labradors.  His knowledge and mentorship has been invaluable over the years.  He is retired now but our Goldberry lines will go on for many years to come!  Charlie spent much time and effort to raise quality, clean Champion lines that have produced many titles throughout the US and Canada, going back to the 70's.
Sara was the perfect combination of the English style, Champion show dog/conformation lines and the American Labrador hunting lines. The blocky head and muscular build of the English style Labrador is a very desirable look. Our clients always tell us, they get compliments everywhere they go. This combination made for an amazingly calm and mellow pet.  
We breed for health, temperament, and looks.  Carefully choosing our pairings to ensure all 3 qualities.  Also, specializing in the lightest color of English, Yellow Labrador.  We are a very small hobby breeder, only 1 or 2 litters per year.  We are not a "kennel".  We have no outside or inside kennels for our Labradors.  Our Labs have a very large corral when they want to go outside to run and play safely, and a lake for additional exercise and fun.  Though they spend most of their time on the furniture, lounging! (Yes, they are spoiled, we admit it)
Our puppies are raised from day one with 24/7 attention, love, and training. The whelping box is literally in the middle of our living room, and someone is there to watch them every minute.  From the whelping box, they move to a large playpen after a couple of weeks to give mom and pups more room until they are old enough to ween, walk, and play. They are weighed daily and closely watched to be sure every little one is eating well and growing every day. Their temperature is taken daily and monitored to be sure they are properly digesting their milk.
When the puppies are 3 to 4 weeks old, they are moved to the kitchen where they get full exposure to the sounds and smells of family life and have room to play.  During this time, we teach them to go outside after meals and when they wake from slumber.  Our Labrador puppies are almost fully potty trained when they are 8 weeks old and ready to go to their forever homes.  
Our Labradors, every single one of them, are members of our family. They are loved and spoiled until the day they go to Heaven. WE DO NOT REHOME OUR LABRADORS WHEN THEY ARE RETIRED FROM HAVING PUPPIES.  We only have 1 or 2 litters per year, and don't breed every heat cycle.  We do not breed before doing OFA health testing after 2 years of age and stop when our reproductive Vet recommends that we do so.  Remember, we are a very small hobby breeder, so you may have to wait up to a year for your Labrador puppy.
You MUST look at our gallery page, puppy videos, and information on our site. You too will fall in love with our Yellow Labrador Retrievers! You may learn why so many of our clients have 2 of our dogs in their family and will always come back to us for their next family member. I think you'll find that our attention to detail with our puppies and clients make Baxter Lake Labradors worth your time and investment.
Mike and Melinda Princeton, Minnesota