Our Dogs Are Our Family Members
Our Yellow Labradors are our family. Loyal and loving, through thick and thin. Thankfully, our Labradors usually live to be 12-15 years old. They are pampered, loved, and spoiled along the way!  WE DO NOT REHOME OUR LABRADORS WHEN THEY ARE DONE BREEDING, WE LOVE AND CARE FOR THEM UNTIL THEY GO TO HEAVEN.
---
Baxter Lakes Bubba Storm aka Bubba
My big handsome Bubba boy is a 95 pound bundle of love. I call him my "Bubbalug" because he's so accommodating. He'll do anything asked of him. Very obedient and loyal, he also has a protective side and is keenly aware of his surroundings. You could say he's like the biggest, best stuffed animal you've ever had, except he's real. He's my boy and I love him so much!  (Update: my heart is broken as Bubba is now in Heaven. He lived to age 14. Thankfully we have frozen semen to be able to continue his spectacular legacy)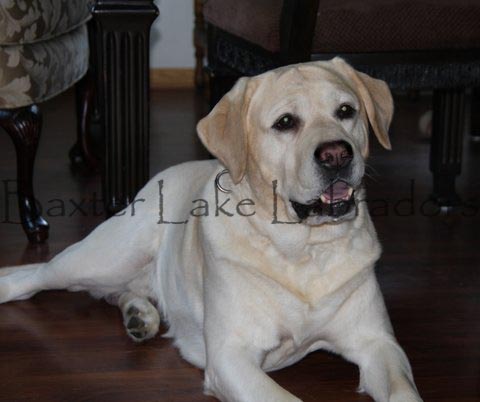 ---
Baxter Lakes Pearly White Storm aka Pearl
Pearly girl is the most sweet, lovable Labrador you could ever own. Her facial expression makes you smile anytime you look at her. And when you look at her, she loves to come and see you, without you even asking. She doesn't just come with a warm greeting, she always picks up a toy to bring to you, and has a really cute squeak to let you know how happy she is.  She is retired from having puppies, just living her best spoiled life with us now.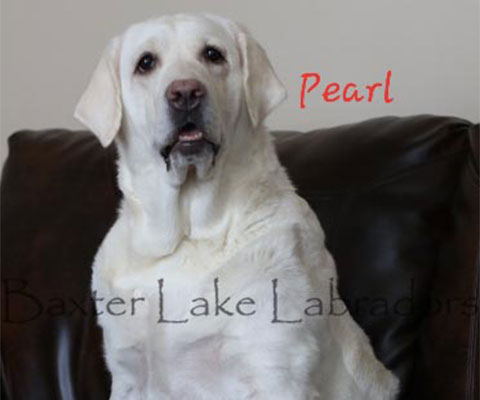 ---
Baxter Lakes White Rose Storm aka Rosie
Rose is Pearl's daughter and has her sweet and calm temperament. She is very well mannered and only barks when she has a good reason to. Very loving and obedient, she has proven to be a wonderful mom. She is a very white Labrador with great conformation.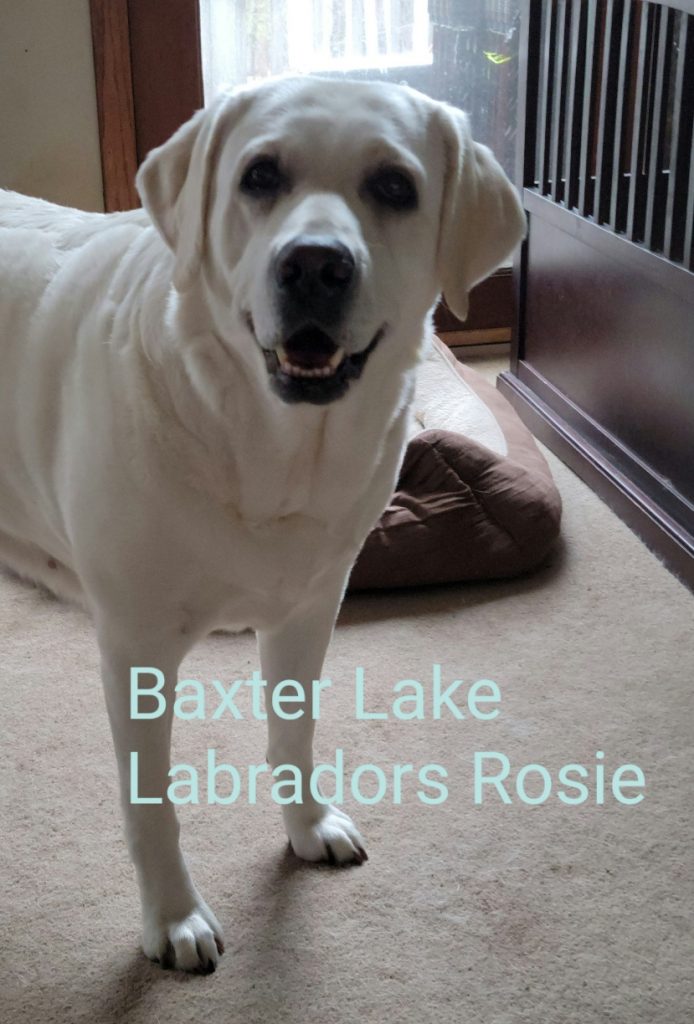 ---
Baxter Lake Labradors Madison Storm aka Maddie
Maddie has a ton of personality! She admittedly is a bit spoiled since she is the youngest of the canine family at our house. But she is also a caretaker to our more elderly dogs and watches over them vigilantly.  She is SO smart, active, and beautiful. She had her first beautiful litter last Summer and has proven to be a wonderful mom!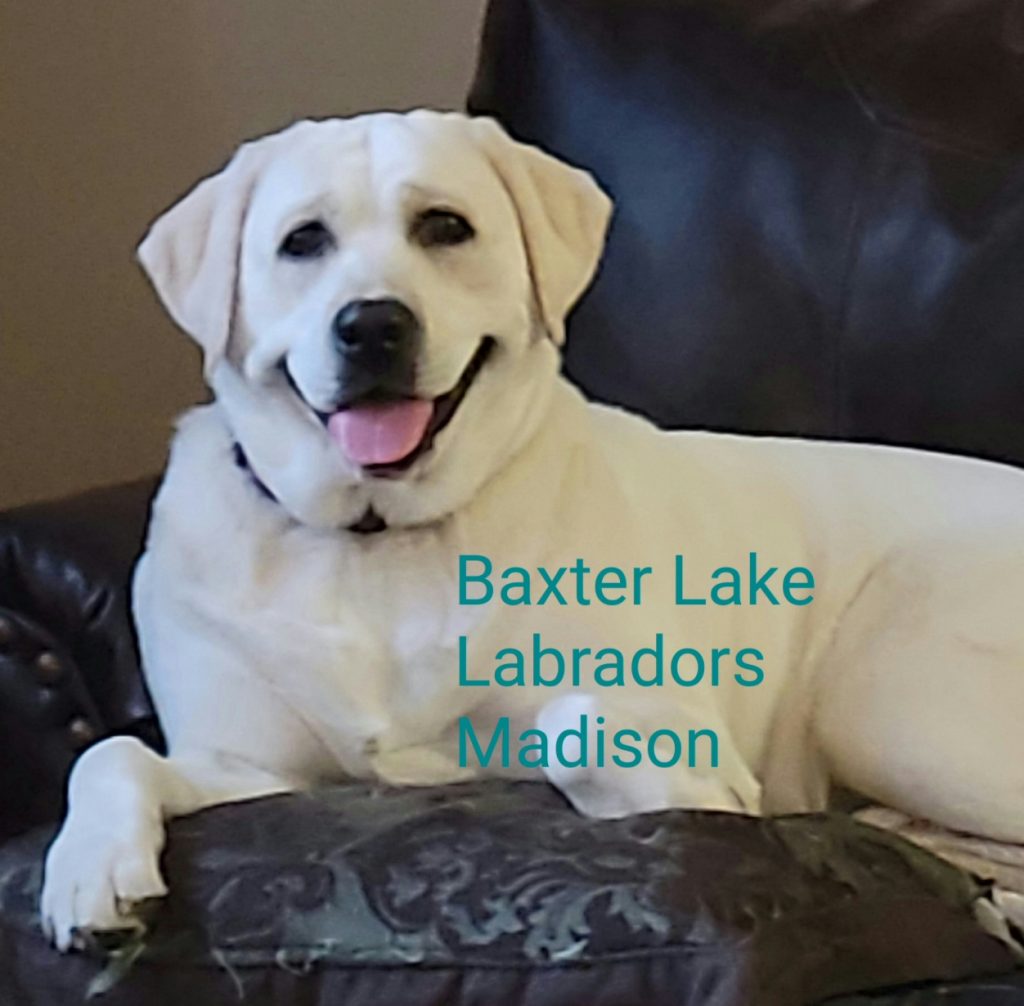 ---
Baxter Lakes Mikko Storm aka Mikko
Our beautiful little lady. Mikko's stunning good looks and classy attitude made her my husband's pride and joy. We took her to 1 dog show and she came home with 3 ribbons. Always attentive, sweet, and very calm. She embodied the perfect pet. From the day she was born, she never chewed anything that was not hers to chew, she was never a bad girl. So smart, her potty training was instantaneous, never having an accident in the house. Such a wonderful member of our family, she'll live on in our hearts forever.  We lost Mikko June of 2017.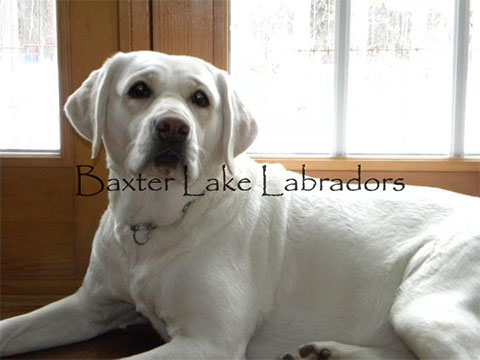 ---
Sara Smile Storm aka Sara
Sara was the "matriarch" of our canine family until she passed away in January 2019. For almost 14 years, she brought us so much joy. She was always next to me, always wanted to be close. A very easy going demeanor and very smart. She literally helped train all of the dogs that came after her. She was my best friend and I'll miss and remember her always.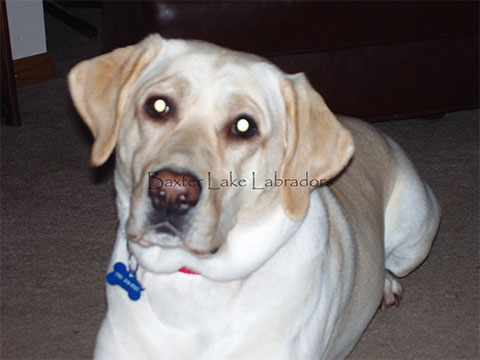 ---