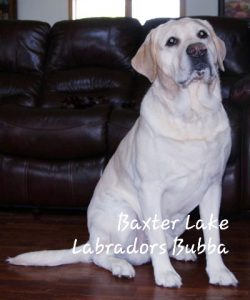 Be sure to watch for our upcoming litter.  We will be very excited to see our beautiful Rosie's offspring.  She has already passed all of her very important bloodwork, hip and elbow xrays, and eye testing with flying colors.  This will be her first litter and we know she will be a great mama!  Her temperament is absolutely wonderful.  She is sweet, loving, and calm as can be.
As we get closer, we will make the all important choice of Sire's.  Our Bubba will be our first consideration, since they are not related and his temperament and good looks are impossible to beat.  Bubba is the most mellow boy we have ever owned.  And his championship bloodlines help ensure a gorgeous, well mannered dog!
We are expecting Rose to be in heat around April 1st.  So, the litter would be born around mid June and ready for their new homes in August of 2020.  We are taking deposits for this litter now, so go to the "I want one" page on Baxterlakelabradors.com and fill out the form.  We will then contact you for more details.